Students in 2D try to Persuade!

October 2016

: The students in our 2D classroom have fallen in love with Math—due to an on-line program called Prodigy. They have been using the program to reinforce math skills while at the same time engaging in fantasy game-play. Up to now, they have been using the free on-line basic version, but they are clamoring for the upgraded version!
In an effort to persuade Mr. Brusini to purchase the upgraded Prodigy Math package for the entire school, they put together, and then presented, a well-thought-out argument. Check it out below!! (click on the glowing arrows to progress through the presentation)
⇓
MPA's Discovery Classroom
October 2016

: Two years in the making, and inspired by one of our faculty members (thank you, MG!), the Discovery Classroom was envisioned as a location in the school that promotes and encourages interactive learning through the use of cutting-edge technology—at an even greater level than our already tech-infused self-contained classrooms. It is a classroom that will never be "finished", as technology continues to evolve, so will the Discovery Classroom. Below, some pictures of the space before and after "Discovery."
                            
The new SmartBoard in the Discovery Room is projectorless—70 inches of touch technology. it also has multiple touch points (10, versus 1 touchpoint for our older SmartBoards), allowing a number of students to work at the board simultaneously.
The night-sky walls and ceiling in the Discovery Room allow for optimum viewing of the SmartBoard display—and hundreds of glowing star and planets can be seen above when the lights go down.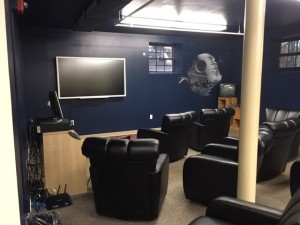 The rear of the Discovery Room hosts tables for small group work—ideal for students as they begin to learn robotics and software programming for their completed LEGO MindStorm creations.
2015

: Although MPA has remained on the cutting edge in the area of using technology to help in the delivery of educational and behavioral health services to its students, MPA staff continues to be challenged by its director to research and implement new ways of using technology in the classroom and therapy sessions. Here are some great examples!